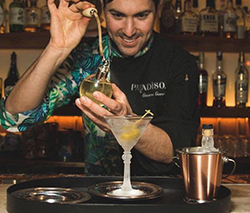 Ben due volte Best Barman of Spain (anche se Italianissimo), nel 2014 alla finale nazionale del prestigioso Diageo Reserve Worldclass e nel 2017 premio Fibar. Il suo locale è nella lista dei Top 10 New Opening Bar secondo Tales of the Cocktails, festival internazionale dedicato al mondo del bar organizzato a New Orleans. Nel 2018 la prestigiosa autorità di settore, World's best 50 Bar, lo piazza al 37° posto tra i migliori cocktail bar al mondo. Stiamo parlando di Giacomo Giannotti e il suo cocktail bar: Paradiso, a Barcellona.
Una introduzione da Oscar, più che meritata, per il giovane Giacomo Giannotti, orgoglio tutto italiano che, a soli 30 anni, ha conquistato il riconoscimento di essere tra i migliori barman al mondo, grazie al suo estro dietro al bancone del bar...
Giacomo Giannotti, bartender de la coctelería ubicada en el Hotel Ohlá de la barcelonesa Vía Layetana, resultó  vencedor de la final nacional de World Class Competition 2014, un encuentro en la que participaron veintiún bartenders procedentes de todas las comunidades autónomas del país. El bartender italiano afincado en Barcelona destacó por su "su imaginación y habilidad técnica" en el desarrollo de cada uno de los tres retos que englobaba la competición: "Cócteles contra reloj", en la que los bartenders tuvieron que elaborar cócteles clásicos con su toque de autor en un tiempo límite de 8 minutos, "Bartender-Bar Chef", donde tenían que preparar un cóctel que maridara a la perfección con una propuesta gastronómica, y "Theatrical & Stars-Martini de autor", en el que  cada uno de los candidatos preparó su propia versión del cóctel incorporando diferentes cristalerías, en una oportunidad para entretener y divertir....
La "World Class Competition", organizada por la multinacional de bebidas Premium "Diageo", es el más importante concurso de coctelería del mundo, que selecciona a bármanes de todo el planeta para enfrentarlos en una final en la que solo uno será el "Mejor Bartender del Mundo" del año.
Este certamen pretende ser un escaparate de nuevos talentos yunaplataforma mundial para la evolucióne innovaciónde la coctelería, siendo un homenaje a la mixología(arte del cóctel), la cultura de los destilados Premiumy todos los profesionales del sector.
La prueba final de España, que se celebró el pasado 9 de junio y reunió a 21 profesionales de la coctelería de todas las provincias españolas, dio como ganador al italiano afincado en Barcelona Giacomo Giannotti, bartender en el bar "Ohlá Boutique", en la misma ciudad...